I've been thinking about making something fun and festive for dinner on Halloween night. Those
cute little pepper jack-o-lanterns
I discovered yesterday might just be the thing. If I make that, I still need something spooky for dessert. I've done some neat cupcake things in years past so I might do something like that again. As I've been thinking about all of this, I decided to do a bit of a Halloween round-up today. Here are a bunch of things that I've made before and I'm seeing on other people's blogs right now. Are you making anything Halloweeny this year?
Pumpkin Chocolate Chip Spiderweb Cupcakes and Chocolate Spider Mini Cupcakes
- I brought these to work a few years ago and they were quite the hit.
Vampire Cupcakes!
They "bleed" when you bit into them. These are really easy to make, too. I included the tutorial on how to do this in the blog post.
Hannah made these adorable little
pumpkin candies over on Bittersweet
.
Ghosts are popping up everywhere at
Fancy Flours!
VegSpinz made her own Candy Corn
last year and now you can, too!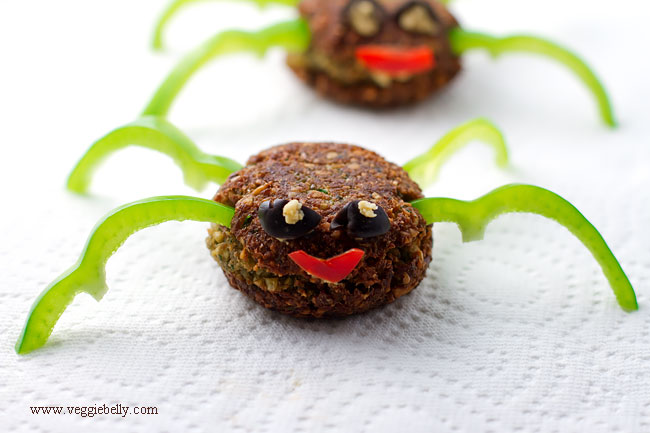 Aren't these
falafel spiders
just the cutest?! There's a great recipe for falafel on this page from Veggie Bellly's site, too.
How about some
sweet potato-chocolate swirl muffins
from the Vegan Cookbook Afficiando?
I would swear there were some more Halloween things popping up in the MoFo this year. Maybe I'll do another round up this weekend if I find some more.